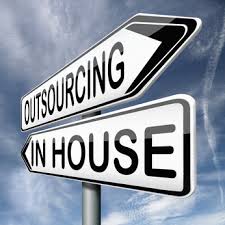 Steve was stressed when I had lunch with him last week. One of his most valued customers was upset because Steve was three weeks late delivering a good-sized project. The issue lies not internally – all the work there is done – but with an outside development firm that he had been waiting on.
Stories like this happen every week in the small business world. By the very nature of my business, I am not against outsourcing different aspects of your business (in fact, quite the opposite), but I am certainly opposed to outsourcing "some" aspects of a business. Here are my 3 do's and 3 don'ts.
Do outsource executive expertise that are non-core to your business. Expertise and knowledge are difficult and expensive to acquire. An hour spent on marketing efforts by my marketing partner trumps me slaving over WordPress for an entire day. Having access to experts is valuable and can be acquired through good partnership.
Do outsource functions that require specialized knowledge. This includes information technology, advertising and public relations, payroll and accounting, and human resources. Areas that would take you or your staff time to learn, implement, and eventually botch, yet are essential for your business, can and should be taken care of by teams of pros.
Do outsource highly repetitive tasks. Most traditional forms of outsourcing but still valid today (until robots are a viable alternative),  including  Clerical processing, conversion, shipping, and inventory. Tasks that are the same each and every time you do them.
Don't outsource strategy. It's your job. As the CEO of your company, your job is to determine your vision and align your team through strategy, milestones, and execution. You can have outside experts or coaches to help you determine this, but don't outsource it.
Don't outsource core service. This is exactly what Steve did. Chances are, we'd like to think that other people will take care of our baby as well as we would. Truth is, unless we are our contractor's primary (largest) account, they have plenty of other accounts just like ours. When push comes to shove, they are going to take care of their biggest customers first.
Don't outsource customer service. Customer service is crucial for business. There's a me-too business around every street corner. To  keep your customers coming back, we truly need to give them an all around best experience working with us. Customer service needs to be close to the day-to-day business, empowered to make changes, and act as the gateway between the business and its customers.
{ 0 comments }