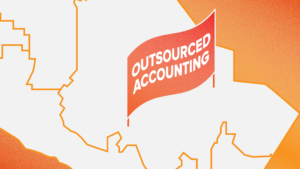 "Outsourced Accounting" isn't just the latest OC buzzword in sunny Southern California but a real thing that owners of businesses of all sizes and types are finding out about lately. What is it exactly? It's a service that gives businesses the expertise that they need in the area of accounting and bookkeeping. OK, it sounds expensive you're probably thinking. However, outsourced accounting services can be much less costly than hiring a full-time staff to work in-house and do this very necessary job for your business.
One of Our Specialties
Here at DeepSky Accounting Services, outsourced accounting services happen to be one of our specialties. Our team of specialists has the expertise necessary for taking over those nagging accounting issues and giving you the perfect level of accounting services to suit your needs. That includes everything from AP to payroll and all-things-accounting-related in-between. That's why we're at the top of the professional outsourced accounting firm list in Orange County. We can do the optimum job for you and at the most reasonable price.
Take Your Business to the Next Level
Now, the question you're probably asking is if all providers of outsourced accounting are just the same. The answer to that question is a simple "no". The reason why is that your company should be getting outsourced accounting services that are designed specifically for your needs, not those of some other business. In addition, those services should be sufficient for helping your business to get to the next level and beyond.
Accounting Pros at DeepSky
Our highly-skilled team is made up of professionals who are knowledgeable in all areas of accounting that are quite industry-specific. No matter what type of business you're engaged in and no matter the size, we have team members who can handle your accounting needs like the pros that they are. When you're looking for reliable outsourced accounting services, you should come to us where you can expect the best, including:
1. A team of consummate experts in financial management and reporting,
2. All of the professional insight and analysis necessary for the timely translation of your business figures into a solid overview of your financial future,
3. A unique leveraging ability in numerous areas of expertise.
4. All of the benefits of accuracy, expertise, and reliability when you entrust your outsourced accounting needs to the DeepSky professional team.
Contact Us at Today
Why should you contact us? That's easy to figure out, especially if you're one of the many busy Orange County entrepreneurs who doesn't have much time to deal with accounting and bookkeeping issues. However, if you wait until those issues have gotten out-of-control, you could be headed for trouble. If you find yourself in that spot, no problem. We're just a quick call or a click away and ready to take control of your outsourced accounting needs. All you have to do is to contact us. We'll be more than happy to handle it for you.