Succeeding in business this year is on everybody's mind, so here are three things that you need to thrive in 2019 as a business owner:
#1 – Meeting with your accounting team/CFO, stakeholders, and Tax CPA
It's crucial that you are aware of the three most important financial meetings that you should definitely have each and every year. They are the only way to get your year off to a great start. They are:
~ Meet with your controller, accounting team, or CFO
This is how you find out exactly how you did during the previous year. You'll then know whether you knocked it out of the park or you missed your mark altogether. That way, you'll know exactly what did or didn't work well for you and you can plan properly for the coming year.
~ Meet with your stakeholders
You really should sit down with them at the start of the year to discuss your goals. This is of primary significance so that you can make sure that you're all on the same page about your projected goals for this year and even the years to come. Identify your goals. Is major growth at the top of the list? Or is it expansion, a new line of products, or something else altogether. If you don't discuss it with them, you might find that you're not in total agreement in these regards.
~ Meet with your Tax Professional
Most people only think about having a sit-down to discuss taxes with their CPA when it's tax time. However, now is the time to have that meeting, especially if you're one of the lucky business owners that's actually making money. That way, you'll be ready at tax time as well as all year long to take advantage of possible additional deductions and money-saving features that you may not have even known existed.
#2 – Outsourcing Whatever You Need Help With
hen you're a business owner, there are usually a number of things that you discover you need some help with. They often include:
~ In-house bookkeeper's absences, extensive training, and way too many turnovers,
~ Paying for payroll taxes and health insurance for accounting staff,
~ Fraud risk.
These problems can be alleviated via outsourcing that provides more fresh eyes to oversee your books along with a separation of bookkeeping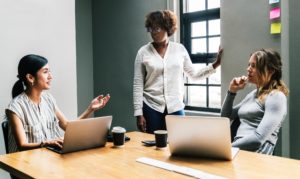 and accounting duties. You can also acquire greatly improved financial intelligence that is both accurate and timely. This is exactly what you need to help you with those crucial strategic business decisions.
Outsourcing became a viable option for many a small/medium business in 2018 and is even more so for 2019. It could be the perfect answer to getting your business through some tough times temporarily. In addition, it can go a long way toward saving you money. It is, however, not a one-size-fits-all solution. What you need is a personalized outsourcing plan designed specifically for your business. You could try working with one of the huge outsourcing companies or opt for a more hands-on personalized local company in Orange County, like DeepSky Accounting.
It's a fact that an outsourcing company like DeepSky offers a wealth of services. You just need to ask yourself exactly what we could do for you and your business. We can start by assisting you with becoming financially organized and becoming a strategic partner for growing your business exponentially. As the business world of 2019 changes daily, so does the need for outsourcing.
As a business owner who faces sometimes confusing government compliance issues, do you have time to stay up-to-date? Probably not, given the massive number of responsibilities that you're facing on a daily basis. Outsourcing can relieve you of at least a portion of them, including your bookkeeping, accounting, internal auditing, compliance, and risk management. You owe it to yourself to find out just how mu can help your business to thrive in 2019. The best part of all is that outsourcing gives you the expertise of professional accounting without all of that added overhead that is inherent to hiring in-house help.
Reasons for Outsourcing
Most business owners have expertise in their chosen field i.e. selling their services or products to consumers. Unfortunately, their expertise may not extend to their finance and especially the area of accounting. That's why outsourcing those accounting issues could be the answer to problems like how to:
1. Maintain accurate financial records,
2. Prepare profit and loss (P&L) statements
3. Break down costs vs. revenue streams,
4. Assist with all receivables and AP and setting up AP automation,
5. Manage expenses,
6. Help making sure that all required paperwork is filed for both employees and independent contractors,
7. Create valuation reports and financial audits,
8. Provide compliance solutions in all areas,
9. Provide business forecasting,
#3 – Keeping Your Financials in Order & How To Do It
This is a very important subject for any business owner. That's why support from professionals in the field are your optimum route to financial management that is both effective and sustainable. Your financials are your monetary calling card. When you need funding from your bank, they show them the state of your financial health. That's why it's so important to keep them up-to-date and as concise as possible. Trust a professional, like us, and you can count on always having financials that you can count on.
Requesting a Quote
If you decide that you need help with anything from your financials to outsourcing, all you need to do is ask. When you ask for your free quote, we'll work on personalizing a plan to fit your budget. Just contact us and begin to save money and further the growth of your business. Remember, professional bookkeeping and strategic outsourcing goes beyond just cash flow, income, and expenses. In addition, outsourcing can allow you to spend more time taking care of business and less time working on your company's books.