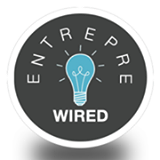 I want to give a big shout-out and thank you to Paul King of EntrepreWired.com.
Paul recently interviewed me as part his ongoing series of profiles on what he refers to as "getting into the mindset of successful entrepreneurs." I was both humbled and grateful for the time he spent with me and wanted my readers to know about it.
In the interview, I talk about what led me to start DeepSky and how my childhood and early work experience enabled me to shape my company to work with entrepreneurs just like me who want to know more about their numbers. There are 2 links, one directly on the EntrepreWired site and one in iTunes.
Enjoy!