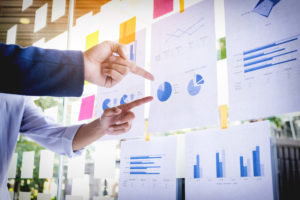 Small business owners, like you, have your hands full just running your business and making a profit. Staying in business requires a lot of skill, patience, and time. Often, that doesn't leave much time for handling your bookkeeping and accounting needs. However, it's important to have your finger on the pulse of your business finances so that they don't get out-of-control. Unfortunately, that state of affairs happens all too often and can lead to the collapse of even a business that appears to be booming.
Here are some accounting strategies that could help your small business
1. Hiring a professional accounting firm (like DeepSky) should be your first step. This will give you better books that are professionally prepared, as well as more time to work on your business.
2. Assist your chosen accounting firm with the initial account setup via the process of bank statement-importing and transaction-categorizing, to facilitate going forward and having them prepare your financial statements for you.
3. This process may be difficult for you. Like many small business owners, you hate to give up even a little bit of control in your business, Right now, however, it's important that you do just that. You can be helping your small business to be an even bigger success when your books are done professionally.
4. Just take a deep breath and remember that you're doing both yourself and your business a big favor.
5. Now, relinquish all of your accounting needs, worries, and major headaches by letting the professionals provide the accounting answers that you need every day that you're in business.
6. Make sure that you've provided everything finance-related to your chosen accounting professionals. We can't provide you with an accurate picture of your company's financial health if we don't have all of the necessary data, from income numbers to expenses and everything in-between.
7. Ask all of the questions that you need in order to ensure your understanding of the overall financial health of your business and to make sure that you're always on track to reach your goals.
8. Submit your business financial data on a regular basis rather than letting it all pile up and then sending it to us.
9. Remember, our best possible chance of helping you to understand and maintain a better financial profile is if you are completely open with us about your situation and work closely with us to have a better picture of your business and its finances.
10. Now, get back to the business of making money and expect an increase in your bottom line via better financial control. Best of all, now you can sleep better at night, knowing your accounting needs are being met professionally. The future's looking brighter, so enjoy it!
Next Strategy Step-Contacting Us Today
Why? Because we can help you to figure out what your business needs when it comes to accounting strategies. We know that you probably don't have enough time in the day for dealing with the many accounting needs of your growing business. The best possible accounting strategy is to contact us and let us help you with planning your optimum accounting strategies.